How To Cut Your Cancellation Rate In Half
On a recent live community call we do every week with our Clinic Accelerator members, we analyzed Soroush's scoreboard for one of his clinics that he recently took over.
One of the first things he did when he arrived was put together the scoreboard. Once he did this, the biggest thing that stood out to him was the high cancellation rate. It was the lowest hanging fruit on the entire clinic scoreboard.
So what's the first thing you do to fix a high cancellation rate? Lets get into it...
1. Sort Real Cancellations from Last-Minute Changes
Before you make any conclusions, you need to figure out if the appointment is a true cancellation or a same day cancellation.
EMRs only record same day cancellations but what about patients who cancelled Tuesday when their appointment was on Thursday?
Never Miss a Call, Even on Sick Days or Staff Turnover.
CallHero's Virtual Receptionist are fully trained to convert callers directly into your software
Custom Trained For Your Clinic
Extended 14-Hour Phone Coverage
Significant Cost Savings
If it is a same day cancellation, then it could be a value issue. You're not framing the value of what you offer in a way that is compelling to your prospective patient.
If they are cancelling later on, it may not be a value issue. Then it could be a communication issue and/or a treatment planning issue.
2. Analyze Cancellation Rates Per Clinician
Once you get the overall true cancellation rate. You want to break it down even further by determining the cancellation rate per clinician.
You want to be able to coach the clinician to improve their cancellation rate. Are they not prescribing enough? Is it their language? You need to talk to them to find out the real reason to help them improve.
Check out this swipe post to learn the tactics you can do to improve high cancellations and low new patient ax:
3. Determine Where They Are Cancelling
Another factor to look at is where are they cancelling?
On the community call, Darryl Yardley mentioned one time he was looking over a scorecard for one of his students who was trying to fix their high cancellation rate. He first asked:
"Where are they cancelling from?"
She said it's all online!
And that was exactly the problem.
Online booking is quick, easy, and convenient. However, there is one big problem with online booking… your admins, even with the best receptionist training, don't have the opportunity to use their rescheduling scripts to save those appointments.
This is outside of your clinicians control and it will piss them off if they are blamed for it.
In this situation, it has very little to do with your front desk or clinicians.
Beat Your Competitors With Every Call
Discover your front desk's strengths and areas for improvement with our Mystery Caller Audit
Convert more calls into booked appointments.
Improve your team's phone etiquette and skills.
Boost overall patient satisfaction and trust.
With online booking you never want to let them book an assessment online. Because that's your first point to start a relationship with them and show them the value you offer.
If possible you should never allow them to cancel online because your admin can't utilize rescheduling scripts to save those patients.
Plus it makes it too easy for patients to cancel and you're unable to handle the objections of why they are cancelling online.
Check out this video to learn what NOT to do with cancellation issues:
Now there are more causes of cancellations like ratio of clinicians to assessments and part timers. But those are the main causes.
And here's the thing. A big part of reducing your clinic's cancellation rate is getting visibility into what is happening on your clinic's phone calls, especially in terms of receptionist training.
How does your front desk interact with your current and new patients? Most clinics are not sure.
That's why CallHero is the ultimate solution for clinics looking to significantly improve their cancellation rates and enhance overall operational efficiency.
As the #1 Call Performance Communication Software tailored specifically for clinics, it offers a range of powerful features designed to revolutionize the way clinics manage their daily phone operations.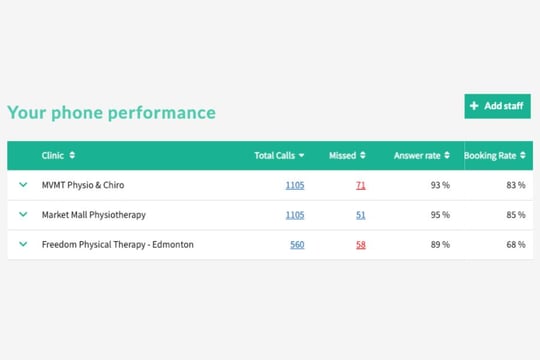 One of the key benefits of CallHero is its receptionist phone training feature. With CallHero's training and software, clinics can achieve remarkable results, including daily 95% answer rates and an impressive 80% booking rate.
This achievement is made possible through the utilization of proven phone scripts that empower receptionists to handle objections with confidence, ensuring that potential patients are more likely to book appointments.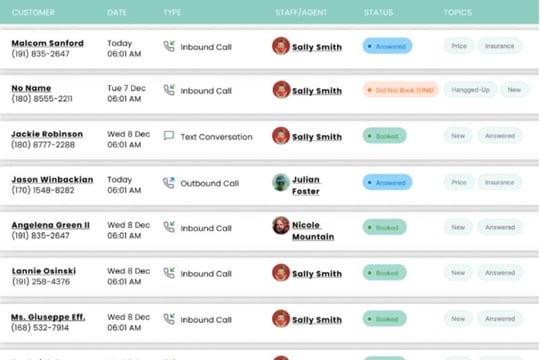 CallHero goes beyond just training and script management; it also provides valuable Call Recording and Metrics Harness tools. Clinic administrators can set daily phone targets and align receptionist compensation with their performance, fostering a culture of excellence in phone communication.
Listening to recorded calls helps you identify areas for improvement, especially in terms of receptionist training, resulting in better call handling and increased conversion rates by your front desk.
What Should I Do Next?
Analyze your clinic and go through these questions to cut your cancellation rate. Clinic owners leave so much money on the table by not analyzing their true cancellation rate correctly.
It's really hard to understand what is truly the cause of cancellations in your clinic without visibility into your phone calls.
Callhero gives you this visibility so you know exactly what your front desk is doing well (or poorly) over the phones with new and current patients. Then, we provide the right receptionist training to help them improve their performance. Click here to get a demo.
1. How do I talk to my clinician about their high cancellation rate?
One way is with the "cookie oreo" approach. First, compliment something they are good at. Then sandwich that with your constructive feedback. Then you leave them with another compliment. I go more in detail in this article here.
2. What's the first step to reduce a high cancellation rate at my clinic?
The first step is to determine if the cancellations are same-day cancellations or if they occur closer to the appointment date. If they are same-day cancellations, it might indicate a value issue where you're not effectively communicating the value of your services. If they occur later, it could be a communication, receptionist training, or treatment planning problem.
3. Why is it important to break down the cancellation rate by clinician?
Breaking down the cancellation rate by clinician allows you to identify which clinicians might be facing more cancellations. This information can help you provide specific coaching and support to those clinicians to improve their cancellation rates, whether it's related to prescription practices, language used, or other factors.
Who is Rick Lau and CallHero?


Rick has built three 10 million dollar healthcare businesses over the past 15 years including a network of 127 clinics with over 1400 employees. He is one of the most sought-after mentors for clinic owners in Canada and USA and the founder of Clinic Accelerator where he helps owners double, triple, and even quadruple their profits by optimizing their clinic operations using his proven systems and leadership strategies. Plus, he has spent over millions in google and facebook ads during his career. He is also the founder of Callhero, an all-in-one communication platform to grow your clinic.
You can follow him on Instagram