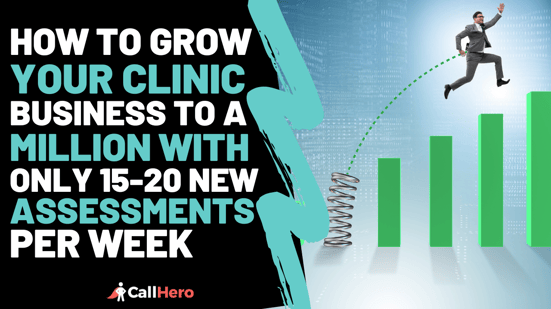 How Darryl Grew His Clinic To A Million With Only 15-20 New Assessments Per Week
In this article, I'm going to share how to hit the million-dollar mark in your clinic by just focusing on the money left on the table inside of your clinic, not outside like assessments and marketing.
There are actually only two things inside of your clinic you need to focus on to hit the million mark...
But first what are two tools that tell you if you're close to your million dollar mark or revenue level?
It's the Scoreboard and PNL (Profit and Loss Statements) but that's not what we will talk about here.
I had an interesting talk with another clinic boss and he was so close to hitting a million. But he didn't have a scoreboard or PNL. Which was eye-opening...
Because your scoreboard will only tell you where your operations are, how you're doing, and where you are at that week. But your PNL is where your expenses are so you need those ratios to keep you balanced to see if you're on track to a million.
Inside Clinic Accelerator, we have a PNL and Scoreboard challenge.
PS. Can you relate to this?
Next, you want to figure out what is holding you back from hitting that million mark and growing your business.
Is it time management, assessments, space, marketing, culture, What is it?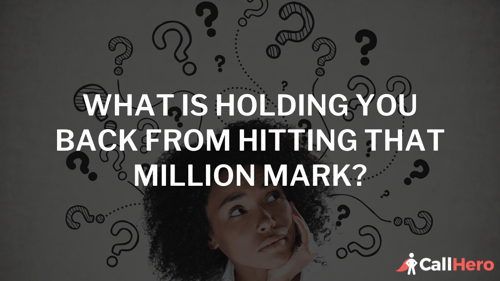 Most people think they need like 50, 60, 70 new assessments a week to hit the million-dollar mark. It's just not true. Darryl hit the million mark by just having 15-20 assessments per week.
In fact, you can actually have too many assessments because it can burn out both you and your clinicians. Many times the busier your therapists get the less they prescribe. And the first way to hit the million mark is by focusing on people completing their plan of care.
There is more revenue being left on the table inside of your clinic than you'll get outside of the clinic with marketing and assessments.
Check out this swipe post to learn the 3 clinic marketing ideas that made me millions.
So one area I see many clinics lacking is they don't focus on treatment planning with their team.
You need to constantly be reminding clinicians to prescribe and systemize it.
If you want to get to the million-dollar mark you first need to see how your plan of care methodology is working and focus on it every week. It's not something you set and forget.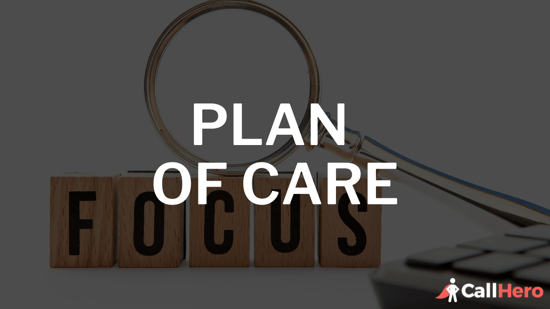 Now you maybe thinking how do I get my staff to buy in, especially my more experienced clinicians who may think they know everything?
A great way to get staff buy is to create a very open opportunity for all your clinicians and admin team to comment on the newest version of your plan of care tool. This gets buy-in by hearing everyone out. This turns it into a very collaborative approach and since they created it together, they are far more likely to own it and use it.
You'll be surprised at how much better your plan of care tool is when you get the whole team's feedback.
Focusing and zoning in on your plan of care will help you hit that million-dollar mark.
Next, you need to focus on shifts….
Part-time clinicians are clinic killers.
The reason is because it ties into your plan of care.
For example, say you have a part-timer working Monday, Wednesday, and Friday evenings. But we need a patient to come in 3 times a week. It is nearly impossible to get the patient's schedule matched up with the clinicians schedule of 3 evenings a week.
And patients don't want to see different clinicians.
What I like is having full-time shift work. Where you have a full-time crew in the morning and one in the evening. If you are able to get close to this type of shift schedule your PVAs (patient visit average) will increase, especially if your clinicians believe in the plan of care.
Also, your open hours can put a ceiling on your revenue. Some clinics close at 6 during the week but you're missing out on all the patients that can only come in after work or on the weekend.
Part-timers and shifts are the biggest obstacles that will prevent you from hitting the million mark.
So there you have it, how to hit the million-dollar mark with only 15-20 assessments per week. Just focus on these two business growth strategies (plan of care and shifts) and watch how quickly you hit your revenue goal.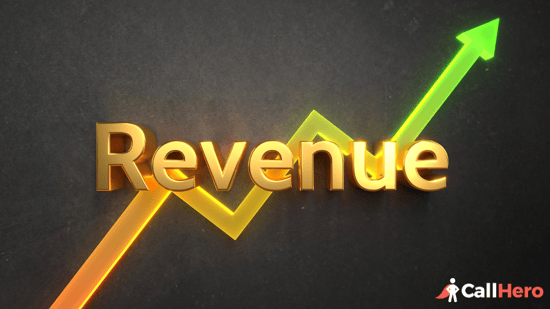 Another way to hit your revenue goal is winning back patients who've already called your clinic. I did a 4-minute training on it here called…
The Most Profitable Phone Script I've Ever Deployed At My $83 Million a Year Physical Therapy and Chiropractic Clinic (As Well As My 6-8 Figure Client's Clinics)
Plus I give you the proven script right here
FAQ
1.
What If I have a great part-timer and I don't want to let them go?
There are exceptions and ways around it. if you have a clinician that is a mom that can't work full time. How you can handle this is…
When an assessment calls, try saying this " this clinician is part time with limited availability and I know she will want to see you at least 8 times so we will book everything out so you can get your spot. There are virtually no objections to this.
2.

What is a PNL?
It's another word for your Profit and Loss statement.
3.

How do I get my team to use the plan of care?
One way is to gather everyone together and collaborate on making the plan of care better. Hear each other out and get feedback from everyone. Not only will this get staff buy-in because they helped create it. But you'll be surprised at how much better your plan of care becomes.
Who is Rick Lau and CallHero?

Rick has built three 10 million dollar healthcare businesses over the past 15 years including a network of 127 clinics with over 1400 employees. He is one of the most sought-after mentors for clinic owners in Canada and USA where he helps owners double, triple, and even quadruple their profits by optimizing their clinic operations using his proven systems and leadership strategies. Plus, he has spent over millions in google and facebook ads during his career.
You can follow him on Instagram