The 3 Most Important Call Tracking Metrics To Getting Even More New Patients
If you want to double your clinic revenue then focusing on these 3 call tracking metrics will help without spending a time more on marketing.
When I was running clinics, I had no idea how my front desk was doing on the phones. Until one day I started using call tracking and was shocked at what I was seeing
My front desk was only booking 60% of phone calls and only answering 70% of calls. At the time I was spending over $57,000/month on Google and Facebook.
So I thought my marketing wasn't working. Until I found out my marketing was working I just didn't have these 3 call tracking metrics dialed in.
I thought to myself, why am I spending all of this money on marketing when we're only answering 70% calls?
I was getting 1,000 phone calls a month at one of my clinics but only answering 700. Which means 300 calls were being missed every single month.
That's when I started focusing on improving my call metrics by giving my staff proven phone scripts and setting targets for them to hit. After doing this we were able to take our answer rate to 95% and booking rate from 60% to 80% which is huge.
Here's why.
1. Answer Rate
Before call tracking for every $1000 I would spend on advertising I would get 20 new patient phone calls.
We only answered 70% of them so 14.

And only booked 60% of those which is 8.

Our cost per new patient was $125.
Then we started really focusing on getting our answering and booking rate up by deploying proven phone scripts. Setting targets for our front desk to hit and measuring them.
Never Miss a Call, Even on Sick Days or Staff Turnover.
CallHero's Virtual Receptionist are fully trained to convert callers directly into your software
Custom Trained For Your Clinic
Extended 14-Hour Phone Coverage
Significant Cost Savings
Now for every $1,000 we spend on advertising we would get the same 20 new patient phone calls.
But instead of only answering 14 of those we would answer 19 (95%).
2. Booking Rate
And instead of booking only 8 of those we would book 15 (80%)
Now our cost per new patient was only $67. Half the cost to acquire a patient!
This small shift allowed us to grow our clinic to $83/million with 127 Physio and Chiro clinics.
3. Win Back Rate
Now the 3rd call tracking metric you need to focus on is win backs. You see, you can winback up to 40% of those who said I'll call you back or didn't leave a voicemail by using a proven win script I'll give you in a second. Win backs are low hanging fruit and an easy way to get more patients.
Beat Your Competitors With Every Call
Discover your front desk's strengths and areas for improvement with our Mystery Caller Audit
Convert more calls into booked appointments.
Improve your team's phone etiquette and skills.
Boost overall patient satisfaction and trust.
But most clinics leave a lot of money on table by not doing winbacks which can set you apart from everyone else.
Here's a proven win back script you can use to win back patients as soon as tomorrow.
In fact, we hear over and over again how shocked our client's callers are when they deploy this win back script. But not only that when they call patients they really appreciate that they followed up even those they didn't win back.
So if you can increase each one of these metrics you can get even more new patients without spending a dime more on marketing. Then once you have these call tracking metrics dialed in you can spend more on advertising and get a much better ROI.
Here's a webinar I did where I went deep on these 3 call tracking metrics.
What are the benefits of using CallHero call tracking software?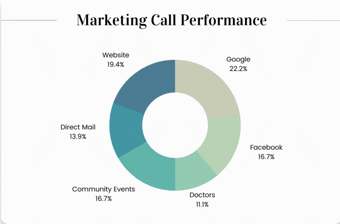 1. Eliminate Guesswork on Your Marketing Efforts
Call tracking shows if patients found you through Google, Facebook, a doctor's recommendation, a community event, or even a postcard. Make confident marketing decisions and boost your ROI.
2. Never Miss a Call With Call Forward
With Call Forward, calls can be sent to your team sequentially until someone answers or to everyone at once. Choose how many rings before moving to the next option, ensuring you capture every potential patient, wherever your team is.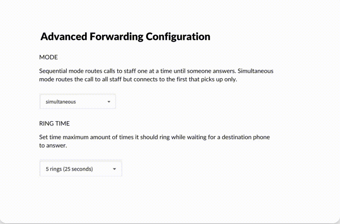 3. Give a Heads Up Before Each "hello"
Whisper messages give your staff a quick heads-up about the caller and their marketing campaign before answering, making every call more productive.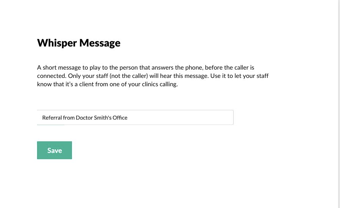 4. Get The Call Outcomes with AI
Gain insights into patient interactions and discover why some don't book. This real-time information is invaluable for refining your marketing strategy and enhancing receptionist training.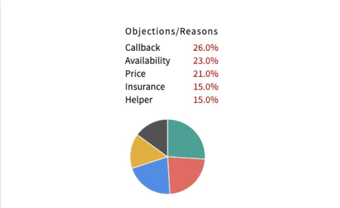 5. Train Your Receptionist Better
Utilize actual call recordings to identify areas for improvement within your team. Provide tangible examples of effective conversation handling and objection management. An invaluable tool for training both new and existing staff.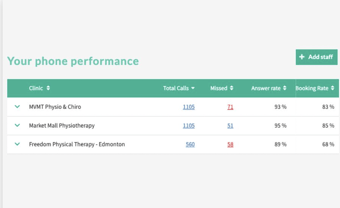 6. Win Back Lost Opportunities From Marketing
Easily listen to call recordings of lost patients who didn't book and win them back. Call back missed callers who didn't leave a voice message. Track each receptionist's conversion rate and revenue earned.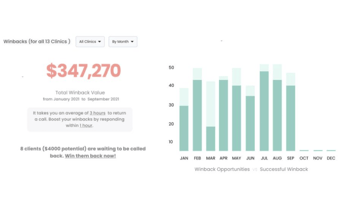 Now if you need a call tracking software that tells you your exact answer rate, booking rate, and win back rate then check out CallHero.
It even uses advanced natural language understanding (NLU) to tell you the exact reason they didn't book...saving you time from having to listen to all the phone calls. Plus does a whole lot more to grow your practice. To learn more just click here.
FAQ
1. How does call tracking for small business work?
If you use CallHero, you get what's called a tracking number (a.k.a fake number) that instantly redirects calls through the CallHero software and forwards to your real number. It's all done instantly. This allows CallHero to track the call.
2. Does it work with my existing phone system?
Yes! CallHero can seamlessly integrate with your existing phone number and phone system through a process called porting. CallHero does it all for you.
3. How much does call tracking cost?
Callhero has different plans to fit every clinic's budget. To learn more just click here.
Who is Rick Lau and CallHero?

Rick has built three 10 million dollar healthcare businesses over the past 15 years including a network of 127 clinics with over 1400 employees. He is one of the most sought-after mentors for clinic owners in Canada and USA where he helps owners double, triple, and even quadruple their profits by optimizing their clinic operations using his proven systems and leadership strategies. Plus, he has spent over millions in google and facebook ads during his career.
You can follow him on Instagram