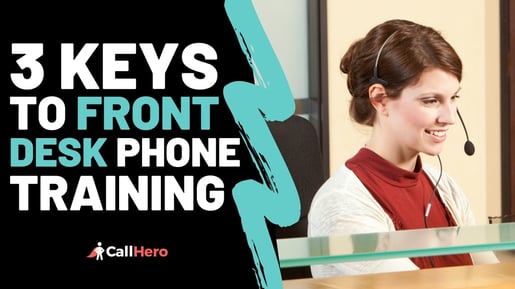 The majority of your patients and prospects don't meet your healthcare professionals first, whether it's your chiropractors, physical therapists, dentists, massage therapists, or other specialists.
The first person a patient encounters is usually your front desk team, whether on the phone, in person, or both. The front desk is therefore where you have the highest potential to lose most of your prospective patients – people who need help and came to you to get it, but end up turning away or canceling an appointment.

Why does this happen? Let's get into it...

I want you to think for a moment: Is your front desk being too pushy or salesy? Not pushy enough? Too passive or detached or uncaring? Too distracted? Too busy?
If you don't know the reason, that might be because you haven't done the work to find out! It might also mean you haven't effectively trained them. Get the secrets to selling patient care plans without being salesy.
On a recent episode of the Clinic Boss Show with Rick Lau, guest Dee Bills laid out three keys to turning that first interaction with a potential patient into a booked appointment that doesn't get canceled.
Dee Bills worked as a physical therapist for many years, and later shifted her focus to improving her clinic's administration and front desk efficiency because she realized they wouldn't survive if they didn't stop bleeding revenue from new patients not converting.
Never Miss a Call, Even on Sick Days or Staff Turnover.
CallHero's Virtual Receptionist are fully trained to convert callers directly into your software
Custom Trained For Your Clinic
Extended 14-Hour Phone Coverage
Significant Cost Savings
At the time, only 75% of her booked appointments were actually showing up. After making changes and using the strategies she discusses with Rick in the webinar, her show rates improved to over 95%. She now helps other clinic owners improve their front desk phone training through her coaching business, Front Office Guru.
You can watch the full episode with Dee Bills here. Or you can also watch this quick clip from the video here:
What Needs to Change With Your Front Desk Phone Training?
Front desk phone training begins by understanding the types of patients who are calling your clinic.
Few people will call up already knowing their problem and having already decided they want help from you. Some do, and those are easy to convert into booked appointments. Others are returning patients. But the majority of callers don't just convert effortlessly into a scheduled assessment.
Instead, they start off with questions like:
Do you take my insurance?

Do you treat my condition?

How long does it take?

What are your hours?
Beat Your Competitors With Every Call
Discover your front desk's strengths and areas for improvement with our Mystery Caller Audit
Convert more calls into booked appointments.
Improve your team's phone etiquette and skills.
Boost overall patient satisfaction and trust.
When a front desk receptionist or patient care coordinator gets questions like these, how should they respond?
First, remember that if the caller doesn't show up for an appointment, they can't get better. This shift in your thinking is so critical because it affects how you will train your team to handle all your callers, no matter what questions they ask. Your goal isn't just to answer their questions.
Your goal is to help them get better. You don't necessarily do this just by being nice. You do it by deliberately managing and directing the call so it focuses on the root issues the patient is facing, and what you can do to help.
Dee lays out three keys to implementing this so you book more appointments through your front desk, and drastically reduce your cancellation rate.
3 Keys to Front Desk Phone Training to Sell Without Being Salesy
1. Turn the Call into Genuine Communication
When talking with someone in pain, who is suffering from some sort of condition that your clinic is able to treat, you must shift the level of communication away from 'transactional' language as quickly as possible.

This call is not a transaction.

It needs to feel more like a conversation the patient might have with a relative. Or, it needs to feel like the first assessment the patient would have with the doctor.

Here's what NOT to say when a caller first calls:
"Good afternoon, this is Doctor Chiropractor's Office."

"Are you a current patient?"

"What's your insurance?"

"Great, I can get you in for an appointment on this day."
Are you worried about robots and AI taking over jobs? Well, a robot could easily have that conversation. This style of 'service' is doing nothing more than filling in the blanks. There is no empathy, no concern for their suffering, no compassion. There is no human connection, and the patient doesn't feel cared for.
PS. Checkout one of my most saved instagram posts about exactly this:
You want them to WANT to come in, not to have to come in. A patient who wants to come in will come to see you. A patient who has to come in could go anywhere. The first step to this is to greet them warmly.

A good warm greeting could be, "This is FeelGood Health Clinic, my name is Jill, how may I help you?"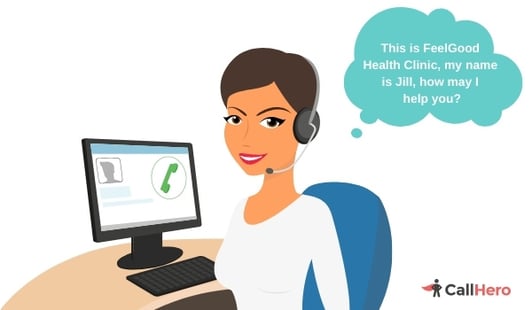 The front desk person needs to give their own name. And, they need to learn the name of the caller so they can use it throughout the call.

Especially for callers who are out of network, paying cash, or have high deductible insurance, you need to make them feel better about having to spend what may amount to significant money with you. This is how you begin that call.
2. Establish Trust
Building trust in this opening phone call will take a little longer than if you approached it like a purely transactional call. But you'll book more patients and get fewer cancellations, so the tradeoff is well worth it.

Before they get to their questions, you want to find out what's going on with them. What are they experiencing in their body? A simple way to start is to ask, "What happened?" Find out what caused their pain or discomfort. But don't stop there.

Dee loves using the word 'suffering,' because it accurately conveys what the patient is going through. She likes to ask, "How long have you been suffering with this?"

Another good question is, "What is your injury preventing you from doing?"

All these questions allow the patient to talk about themselves. They get to vent. They get to express to someone what's making their life hard, and they will feel heard. 5 powerful trust-building phrases.
It's also good to sincerely express that you are sorry for the pain they're going through. Again, even though this a stranger right now, they have just poured out a lot of pain and stress that's going on in their life. Going straight from that to "Well, would you like to book an appointment?" is not very human.

Express sympathy first. Express understanding that this must be very hard for them, and that your clinic would love to help them get better. Show that you actually listened. Show that you care.

And again – use their name repeatedly. Instead of "I'm sorry for the pain you're going through," say, "Jessica, I'm sorry for the pain you're going through." Adding their name makes a profound impact.
Train Your Receptionist To Convert More Calls
Achieve 95% answer rates and 80% booking rates with CallHero's training and AI software
Attract More Clients
Train Your Staff Better
Convert More Calls
3. Get Control and Direct the Conversation
Equally important is to gain control of the conversation. While you want them to talk about their problems before getting to the booking details, you don't want them to go on for twenty minutes about it. And some people will, if you let them.

You need to direct the conversation toward the services they need and the next steps to take. Put yourself, as the front desk person, in a position of authority. You are not just a receptionist. You're a patient care coordinator.

So there is a balance here between having a genuine conversation to build trust, and booking the appointment. Here are a few scripts to help you pre-book new patients on the phone.
What do you do if your clinic's schedule is completely booked for weeks without upsetting the patient? Click here for some tips and my favourite phone script to use when you're overbooked.
Watch the Entire Webinar for Free
Dee's conversation with Rick Lau touches on much more than this. Later on in the same webinar, you will learn her top sales tactics to easily double your caseload without spending more on marketing.
You'll also get her phone secrets that are guaranteed to increase your conversions, and the biggest mistakes clinics make with their front desk phone training and how to get team buy-in without overwhelming them.
FAQ
1. Why do prospective patients turn away or cancel appointments after interacting with my front desk team?
Prospective patients often turn away or cancel appointments due to ineffective communication, lack of empathy, and the perception of being treated as transactions by the front desk team. These interactions should focus on building connections, understanding patients' needs, and fostering trust to ensure better outcomes.
2. How can I improve my front desk phone training to book more appointments and reduce cancellations?
Enhance front desk phone training by prioritizing genuine communication, establishing trust through active listening and empathetic responses, and seamlessly guiding the conversation towards necessary care. Balancing empathy and practicality leads to more successful interactions and fewer appointment cancellations.
3. How can front desk staff effectively manage phone calls from prospective patients?
Front desk staff can effectively manage calls by fostering genuine communication that transcends transactional exchanges, building trust through empathetic understanding, and gently steering conversations towards needed services. This approach ensures that patients feel heard, understood, and motivated to book appointments while receiving the care they require.
Who is Rick Lau and CallHero?

Rick has built three 10 million dollar healthcare businesses over the past 15 years including a network of 127 clinics with over 1400 employees. He is one of the most sought-after mentors for clinic owners in Canada and USA and the founder of Clinic Accelerator where he helps owners double, triple, and even quadruple their profits by optimizing their clinic operations using his proven systems and leadership strategies. Plus, he has spent over millions in google and facebook ads during his career. He is also the founder of Callhero, an all-in-one communication platform to grow your clinic.
You can follow him on Instagram