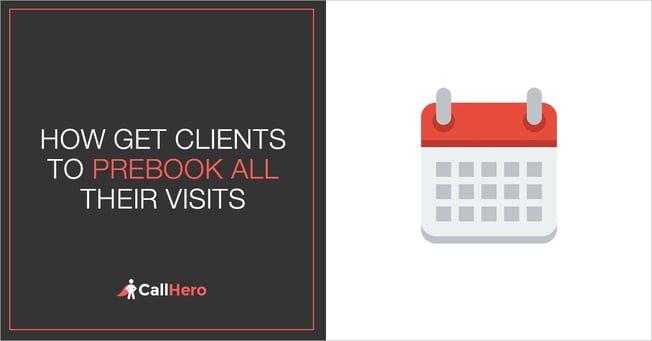 In a sold out business summit I recently ran with over 118 clinic owners in attendance, one of the big factors we talked about was patient discharge. And on the flip side, better patient engagement.
So let me ask you, does this sound like a familiar situation?
You seem to be getting a good number of new patients but the challenge is you finish the first appointment and YOU WANT THEM to book the next couple of appointments in advance.
Or better yet, you schedule their entire plan of care so they make it through the entire treatment plan to a full recovery. But...the reality is this rarely seems to happen.
The patient gets to the front desk and says, "Ben wants me to book more appointments."
The front desk replies, "Ben's schedule is pretty wide open, what time works best for you?"
Instead of locking down a time, the patient responds, "Actually, let me just check my schedule and call you back later."
Your front desk simply replies, "Okay" and the patient walks out the door — and they never call. Or, at least, it might take them a while to get to it.
Sure, they had every intention of calling back straight away but they got super busy and life got in the way - everything else seemed like a greater priority. While they may come in intermittently for a few more appointments, they aren't fully committed to the treatment plan and end up self discharging.
This is really bad news for you and your business. That's why we're going to talk about how to fix it — to the point where you can pre-book a patient's appointments BEFORE they have even seen you for their first appointment. Sound impossible?
With the following strategies, you can boost your business by guilding and driving your patients to the end of their treatment plans.
Pre-Booking Patients
I know, it sounds like a strange concept, booking patients before they even see you. Trust me it works.
When I work with my private clients (most of them have annual sales of $1M+), we use some of the exact methods I'm going to share with you today.
In collaboration with The Phone Lady, I've also had a hand in building all the Call Academy front desk training — our exclusive CallHero training for customers.
In our front desk phone performance training classes we cover everything from answering more patient calls (call tracking metrics), to greeting callers and patients, through to dealing with every type of objection there is - lack of service objections, money and coverage objections, price objections.
What is the problem we're talking about today? Your patient turning around saying they have to check their schedule - that's an "availability objection."
In clinical practice, you will constantly come up against these objections. If you don't train yourself or your team to deal with them effectively you might as well close up shop because your journey as a business owner will be tough one.
The key is to work smarter and implement a few simple systems that solve a large part of these objection issues.
The solution begins with shifting your mindset to BEFORE the appointment — pre booking patients is possible and it's an incredibly smart business practice to focus on.
Pre Book by Creating a Sense of Urgency
The single biggest key to this process is to create a sense of urgency.
You might have already observed what happens when your schedule is EXTREMELY booked. Patients will take any time slot they can fit into. They will go ahead and juggle the rest of their lives to fit in. That's exactly what you want them to do.
It's like going to a restaurant for the first time and seeing a very long line — you trust that the food must be really good.
Therefore, placing urgency into the conversation with a "squeeze you in" phone script encourages people to make an immediate decision.
Let me give you a practical example: My massage therapist, Ashley at Equilibrium Massage Therapy, is so freakin' busy all the time (at least that's what the front desk tells me!!).
Even though my schedule is totally unpredictable with my business commitments, business trips and travel, family time and beach vacations, I go see Ashley every two weeks. I book every two weeks, 3 months out because if I don't, there won't be room for me in her schedule - that's what the front desk has programmed me to think.
I only recently started doing this because I couldn't wait for more than one month to get in - I really need to get my stressed muscles ironed out on a regular basis.
Think strategically. Can you see how you can orchestrate this situation — even if your schedule isn't fully booked?
The sense of urgency will compel patients to book ahead to secure their appointments. It's super smart business!
Never Miss a Call, Even on Sick Days or Staff Turnover.
CallHero's Virtual Receptionist are fully trained to convert callers directly into your software
Custom Trained For Your Clinic
Extended 14-Hour Phone Coverage
Significant Cost Savings
Implementing your Pre-Booking System: Strategy #1
Here's an in-person or phone script you can use for new patients:
"[Clinician name] has a 3 week wait list but I do have a couple of openings that "just" came up I can "squeeze" you into, Tuesday at 10 AM and Friday at 5.30PM [give them two time options - AM & PM on different days]. Would you like to "secure" one of those spots for yourself?"
Once they choose one of the slots provided, follow on by saying:
"Excellent. Friday 5.30 PM is now "all yours."
"I know [Clinician name] recommends ankle injuries [insert condition] get follow up treatment once a week for 6 weeks, so I recommend you "secure" your time slots ahead because I don't want you to miss out and interrupt your recovery. Would the same time for the next 6 weeks suit you?"
If it's a condition that would require twice a week treatment, do the same, pre-book them into the schedule.
Remember, patients have come to your practice to get professional treatment for a pain or problem. So, from the very start, your team needs to take the lead and guide the patient on what to do.
Of course, this includes training your staff on how many treatments popular conditions are likely to need (in most cases), and getting them to pre-book patients accordingly.
Implementing your Pre-Booking System: Strategy #2
A second strategy you can use is your "wait list."
The patient calls and says, "I would like an appointment with Ben on Tuesday afternoon."
Front desk, "Ben is all booked up that day/afternoon. However, I can put you on his "wait list" for that afternoon as there are always cancellations and openings becoming available. Alternatively, we can "guarantee" you an appointment on Wednesday afternoon. It looks like 2:30 PM is still available. Would you like to "reserve" that spot for yourself, or be put on the "wait list" for Tuesday afternoon?"
Both methods put a little needed pressure on the patient to make a decision.
The main point is never leave the ball in their court. Most people are indecisive so never say, "What time suits you?" It's way too open ended.
Always, make just a couple of time suggestions and squeeze them to lock a time down.
Train your staff to do this on the phone BEFORE new patients or existing patients have their appointments. It works and you should already be implementing this strategy after the first appointment.
You'll be surprised at just how effective it is at getting patients to commit to their entire plan. They need your help and looking for your direction so take the lead and guide them on what to do every step of the way.
PS. Get your hands on the FREE "7 Secrets of a High-Revenue Front Desk" checklist to uncover strategies such as a 3-sentence follow-up script for missed bookings, turning around low-performing receptionists, and a simple motivation trick for boosting revenue and patient count.
Click here to get the checklist
.