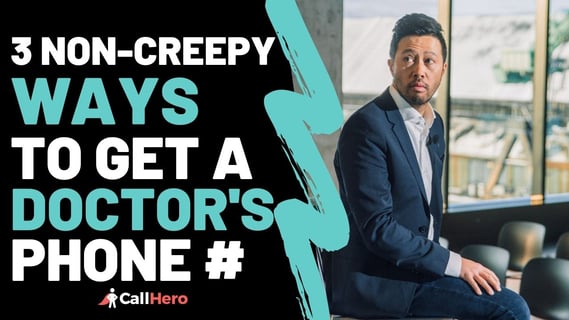 Increase Your Rate of Return from Your Physician Referral Marketing
As you probably know if you've succeeded in securing even one solid source of referrals from another doctor, getting their cell phone number is a big step in the process.
Having direct access to a doctor means you have a healthy enough relationship with them that you can reach out about getting referrals without seeming pushy or annoying.
With their cell phone number, you are no longer a clinic owner seeking money.
Now you're a familiar face and a familiar name.
Pharmaceutical reps have told me that the moment they get the cell phone number for a doctor, that's when they start getting business from them. And if you're tracking where each of your new patients are coming from like these reps do, you'll know how well your marketing to doctors is working once their referrals start calling you.
Don't know how well your marketing to doctors is working? Watch this 30 min training video on how to measure how many new patients are booked from doctor marketing, emails, google, facebook, webinars, community events, and website.
In this post, we'll explain why doctor marketing is important and 3 "non creepy" ways to get a Doctor's direct phone number
Your goal is to establish a relationship that is trusting enough so that they will freely send you referrals
From this perspective, getting their number is the preliminary evidence you have reached your goal. So, what you're not going to do is get all creepy and weird trying to spy out their cell phone without them knowing.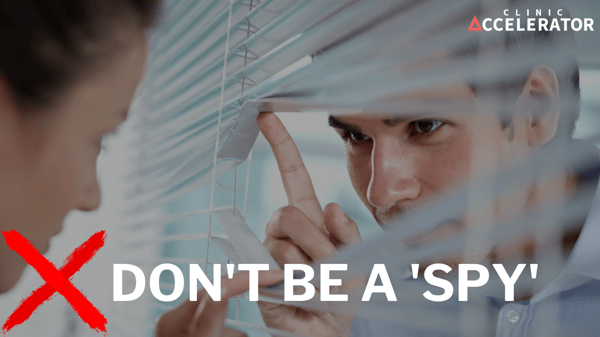 With that clear – how can you increase your success rate and speed up the process of getting more numbers from more doctors?
That was the subject of a recent episode of New Patient Secrets, in which I interviewed Jamey Schrier, founder of Practice FreedomU, which provides coaching for clinic owners who want to make more money but work fewer hours. He helps automate your systems and boost your clinic's operational efficiency, using methods he discovered himself over a nine-year period while running his own physical therapy clinic.
You can watch the video of this part of Jamey Schrier's interview, or just read below to get the main points.
3 Ways to Get a Doctor's Direct Phone Number
1. Just Ask! 🙋
Suppose you are talking with a doctor and have built some rapport with them. They know you run a medical clinic, perhaps with more than one location that could help serve some of their patients. Sometimes the simplest path to getting their number is simply to ask.
Jamey said that simply asking for the cell number is his go-to method, and he has never been turned down. But again – he's not showing up at their door and blurting out "Hey doc, can I get your number?" So 'just ask' must be taken in the right context.
You build some rapport
Establish some familiarity,
Develop a connection around a common experience such as working with patients who have knee problems caused by running,
and THEN, you ask for their number when it feels natural to do so.
'Just ask' is the most effortless approach to getting a doctor's cell number, but you do need to remember to do it! That's the biggest problem. Some clinic owners simply forget to ask, or they settle for just having the front desk number. You want direct access.
Check out this blog post on What NOT to Say When Marketing to Doctors for Referrals. I give you like 5 different doctor marketing scripts you can use to get the doctor to like you and gain your trust.
2. Give Them Your Number First #️⃣
A lot of times, once you've built up enough rapport with a doctor, they will see you as a valuable resource and will foresee a situation where they need to contact you about a patient you're both working with. In that case, offer them your number.
Another possible scenario is that this might be how they connect with you in the first place. One of their patients may have come to you on their own, and now the doctor needs to discuss some aspect of their treatment or progress. To reach you, they had to call your front desk and get through all the barriers just to reach you – the same barriers preventing you from reaching them!
So, whether you have a doctor like this on the phone, or you're talking to one in person, just say:
"Do you want me to just give you my direct number? That way you can avoid having to get through my front desk and you can talk to me directly about your patient"
Most doctors will take any opportunity to save time. And once they have your number, you can get theirs.
3. Get It from Their Gatekeeper 🗝️
Many doctors are very hard to reach, and you have to go through their gatekeeper to get anywhere. This might an office manager, a secretary, or some other front desk person.
If you establish a good relationship with the gatekeeper, eventually it will be more natural to get the direct line to the doctor. So how do you forge a connection with this person?
The single best approach is to apply basic relationally healthy skills. The greatest of these is simply to learn their name, and remember it.
Then, the next time you come in, you can smile, make eye contact, have good posture, and greet them by name. Simply knowing their name will break through so many barriers. As you develop this relationship, you'll eventually be able to get the doctor's number.
BONUS DOCTOR MARKETING TIP!!!
Check out the my instagram post on WHY you should go after new doctors first who DON'T have a physiotherapist, chiropractor or massage therapist yet...
Once a Doctor Starts Sending Referrals, Don't Lose Them!
It's great when your marketing to doctors results in a doctor starting to send you referrals. And it' terrible to lose them simply because you don't have good systems and strategies in place to book more of your incoming callers as patients.
What happens if a referred patient calls but no one answers the phone? Will they leave a voicemail? Whether they do or not, someone from your clinic needs to call them back – FAST.
That's just one of 7 outbound calls you should be making to book patients who have already called you or have come in previously.
And when you call them, don't let your front desk just wing it. Use proven phone scripts, like this one, to win back missed or lost patients.
Get More Secrets of Marketing to Doctors 🤐
How do you get more new patients during this pandemic, yet still remain profitable?

No matter what search engine, social media platform, or even doctor marketing you're using, this is the question and I'm on a journey to get you the answer. I'm Rick Lau and welcome to New Patient Secrets!!!
Each webinar, I'm going to interview and deconstruct the best marketers & clinic owners across the world to extract the real tactics and tools you can EASILY implement each week to get you even more new patients
I've built three 10 million dollar healthcare businesses over the past 15 years including a network of 127 clinics with over 1400 employees. I've become one of the most sought-after mentors for clinic owners in Canada and the USA where I help owners double, triple, and even quadruple their profits by optimizing their clinic operations using proven systems and leadership strategies. I've also spent millions in Google and Facebook ads during my career, so I've learned a few things.
In each episode of New Patient Secrets, I'll interview other medical clinic all-stars like Jamey Schrier, and you will get free access to what we've learned about clinic marketing, elevating profits, reducing workload, and so much more that we want to share with you.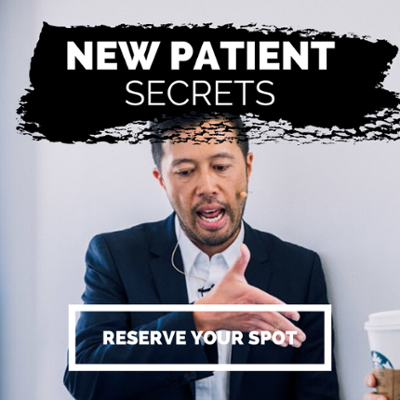 FAQ About Marketing to Doctors
How do you get more doctor referrals for a physical therapy or chiropractic clinic?
Your first line of action is to foster the relationships that you already have with doctors. Make this routine. One of the key reasons doctors will stop referring you is: you took that doctor for granted and they found a better replacement who paid more attention! Doctors typically refer to the last person that visited them so if you're not doing it regularly, they forgot about you. The easiest thing you can do is to fax and email your care plans to the doctors. This will give you a reason to visit the doctor
What is the easiest way to get physical referrals for your physical therapy or chiropractic clinic?
The easiest thing you can do is to fax and email your care plans to the doctors. This will give you a reason to visit the doctor. Focus on doctors who already refer to you and find a way to visit them
How do you market a physical therapy or chiropractic clinic?
The easiest way is to market to patient patients and existing physicians referral sources. You can also run google ads campaigns and target keywords like "physical therapy" or "chiropratic care" or "IMS treatment". One of my all time favourites is to run online workshops (ie back pain workshop on gardening) and use that as an opportunity to collect emails, build trust and offer a free back/posture scan.
ABOUT RICK LAU

Rick built three $10 million healthcare businesses over the past fifteen years, including a network of 127 clinics with over 1400 employees. He is one of the most sought-after mentors for clinic owners in Canada and the US, where he has helped owners double, triple, and quadruple their profits by optimizing their clinic operations using proven systems and leadership strategies. He has spent millions on Google and Facebook ads during his career.
You can follow him on Instagram