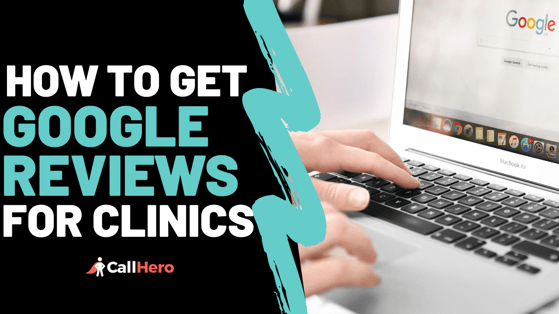 Getting good reviews on Google feels great. Everyone loves a compliment. But when it comes to becoming the top specialty health clinic in your area, you want to get Google reviews continuously coming in on your behalf – every week.
Every patient who comes in to your clinic could write a great review. How many patients do you see per day? Per week? Think about it. If you can get just two patients per week to write a great review, that would be about 100 per year.
Small steps. Huge impact.
From what I have seen with the 375+ clinics in our community, a good benchmark is 15% of your new patients each month should convert into a google review. So if you get 100 new patients each month, you should get 15 google reviews each month.
And you can learn how to get Google reviews for your dental office, chiropractic clinic, or physical therapy clinic starting today.
Why Getting Google Reviews Matters
Good Google reviews strengthen your other marketing strategies. They don't just help patients feel good about calling your clinic, though they do that too. They don't just aid in the process of attracting more patients, though they do that too. Good reviews also build your online reputation with Google. As you continue getting more good reviews, Google will increase its rankings for your Google Business Listing and give your clinic more exposure.

If you run a dental office, all you need to do is beat other dentists in your area and show up first on the list when people search for dentists near them. Same with physical therapy and chiropractic clinics. More Google reviews – good ones – will vault you to the top and lead to more patients calling you first.
So what makes a good review, and how do you generate a steady stream of them? And what should you do when you get a bad review?

We've got a ton to share about all this, including real review-generating scripts you can start using – today!
What Makes a Good Google Review?
A good online review contains at least eight key components. You can't write reviews for your patients, but when you use scripts like what we'll show you in a bit, you'll succeed in getting almost all eight of these in every review they leave for you. Here's what you want to see in your Google reviews:
Words that make your clinic sound great
SEO keywords – reviews are an awesome source of free keywords related to your niche
Star rating – you're looking for an average of 4.8 or higher
Name of your clinic
Name of the clinician who helped the patient
Service that was delivered – this is a primary keyword
Body part worked on
A reply from you – even to the ones that just have star ratings with no text
Here's a real review that contains all eight of these elements: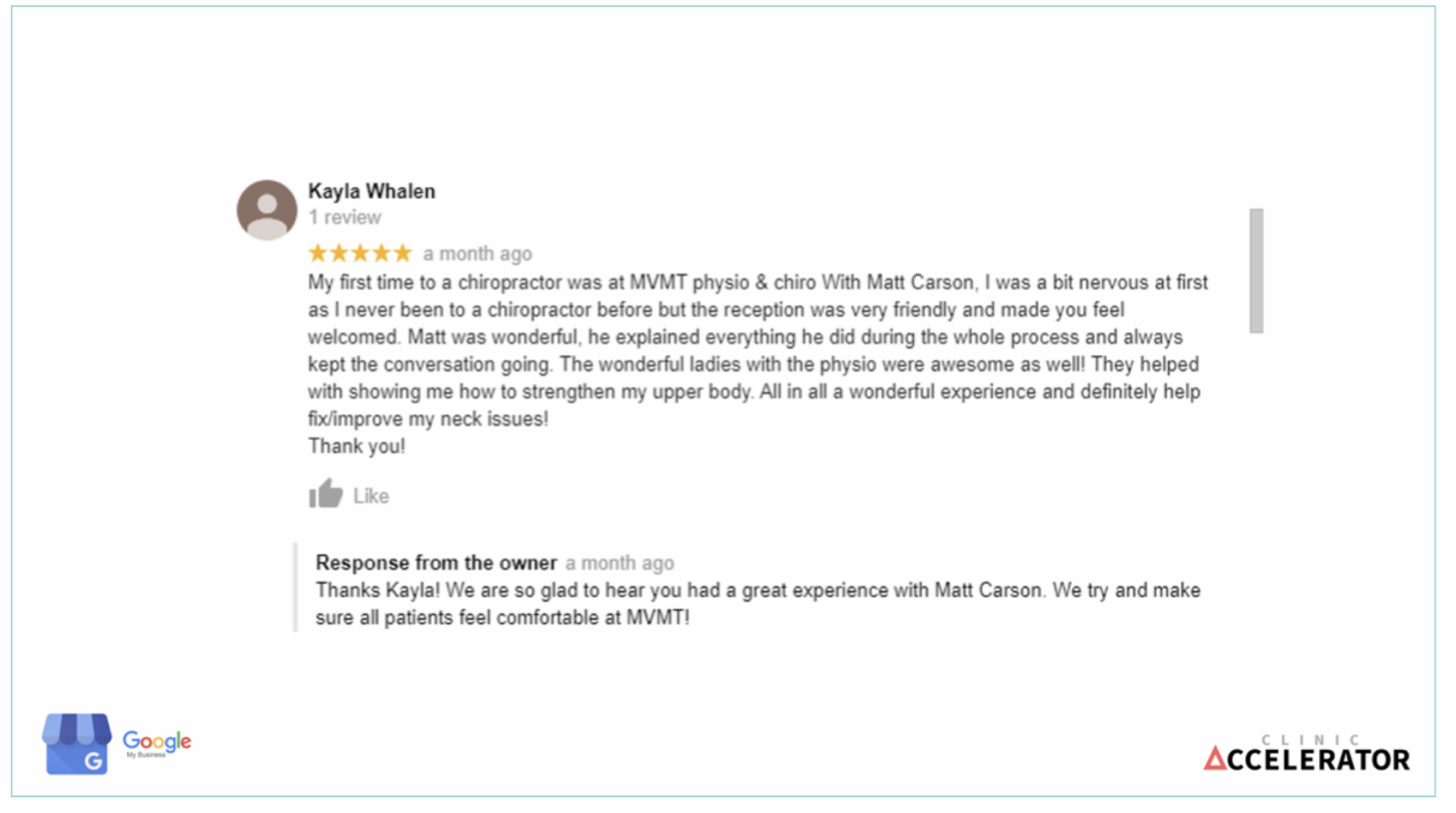 Can you find all eight elements? It names the clinician (Matt), the clinic (MVMT), the service (chiropractic and physiotherapy), and the body part (neck). There are a ton of keywords and a reply. And it is filled with praise about the people and the experience.
Getting Google reviews every week is critical, because you want consistent signals to be sent to Google that stuff is happening at your clinic. Getting to the top using your Google Business Listing depends on this consistency. That's why you need a system and a process for getting good Google reviews.
6 Ways to Get Google Reviews for Your Chiropractic Clinic, Physical Therapy Clinic, or Dental Office
All these methods boil down to one simple word:
Ask!
If you don't ask for Google reviews, you won't get very many. People are busy. You must put this on their minds and give them a reason to follow through. Here are the strategies:
1. Use a Script at their 1st visit
This is up to your front desk team. You can help them set goals to ask at least two patients per day, or some other reasonable target. Once they get the hang of it, it will be second nature.
Once the initial treatment is done, the front desk person asks the patient how the treatment went. If it went badly or was only okay, don't ask for a review. But if it went great, use the script below.
The key is to ask them to leave a review for the clinician. Don't say, "Could you please write our clinic a review?" Instead, use a script something like this:
"How was your visit today with Kelly?"

(wait for reply – if experience was positive then keep going)

"That's awesome! Kelly is always trying to help more people in [name of city]. She would be over the moon if you left her a Google review about your experience at [clinic name]. Would you be willing to leave her a quick review? It only takes a minute and it would help us help more people."

(wait for the yes – if you get one then keep going)

"Great! I will send you a link you can use to write the review. And don't hesitate to mention Kelly in your review."
2. Ask for Reviews When They Graduate Their Plan of Care or Hit a Milestone
The script for this will be similar to the one above. But again, the point here is to ask for a review when the patient is feeling their best about their experience at your clinic.
3. Ask on Your Website
Have a clear and easy-to-see call to action on your home page that asks for Google reviews and provides the appropriate link. This also doubles as a sales tool, because new patients coming to your site can click to read all your reviews.
Make sure you comply with the rules of your college on what you can and cannot do.
4. Hand Out Cards or Brochures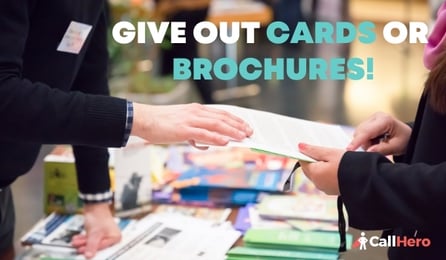 You can also give out cards or other printed material that asks for Google reviews and explains exactly how to leave one. And again – you can put a version of the script on the printed material. You can suggest that they leave a review for the person and to describe how the clinician helped them. This will increase the likelihood they will hit all eight of the components of a good Google review.
5. Ask via Email or text
You should already have a follow-up email that goes out at key points before, during, and after a patient completes their plan of care. Send out emails asking for Google reviews at key milestones, after the assessment, or after they graduate.
Or even better, text them after your front desk asks them after their 1st visit.
And again – be sure your email/text includes a link for where they can leave the review.
6. Send a Postcard or Thank You Card
A printed note has even more power than an email. People appreciate thoughtful gestures like this. And by combining the thank you card with the review request, you will break through their resistance.


These last three methods blend well with your other content marketing. You are doing content marketing, right? See how to use it to attract more patients.
How to Motivate Your Staff to Ask for Google Reviews
You have to get buy-in from your staff for any of this to work. Here's how to motivate them:
First, the easier you can make it, the more likely they will do it. Automated processes like emails that go out at key moments in the patient's journey will easy to implement if you have a good email platform.


Second, you can make it fun. Make contests for who can get the most reviews each week or month. The winner gets a prize or a bonus of some kind.


Third, empower them with scripts. For in-person requests for Google reviews, scripts really make a big impact because it allows the staff person to just build it in to their routine. However – keep in mind that none of this is routine for the patient. So train your staff to ask in a warm and sincere way, not in a monotone with glazed eyes that are glued to their computer screen and never even look at the patient.
The more personal and sincere, the more effective.
Some Caveats to Getting Google Reviews for Your Clinic
College Guidelines
Be sure to check the college guidelines for your area as they relate to asking for reviews. Some places allow incentives like gift cards, for example, while others may not. How you ask, where and when you ask – all this may be subject to certain guidelines.
Don't Let Them Write Reviews at Your Clinic
If they write their review on your clinic's wi-fi, Google will recognize that IP address as belonging to you. If this starts happening frequently, Google will think you are making up your own reviews, and they will penalize you for it. That's why we're using the approach of sending them a link via text or email.
Vary Your Approach
You just saw a bunch of strategies for how to get Google reviews, where and when to ask, and how to motivate your staff. The reason there are so many is because you will want to vary your approach. You may not want to run a staff contest every single week. It might get tiresome.

Try different methods to keep it fresh. Involve different people from time to time. And keep track of all the metrics. If you find some approaches seem to produce more reviews than others, you'll know what to keep using and what to adjust or abandon. See three marketing metrics that matter for health clinics.
How to Respond to Negative Reviews on Google
First off – don't take bad reviews personally. Some people just like to be negative. But you do want to respond. Why? Once again, this is more for Google than the person. Simply having the response shows you are actively responding to all reviews. You also want to be sure and keep it short.
Here's what to say:
Thank them for the review
Restate a key value of your clinic that relates to their complaint
State your case – for example, the college guidelines forbid free assessments
Apologize – not for what happened, but that something wasn't clear or for how they felt
Offer a clear next step such as an offer to call and find a way to make it right
Do NOT address the detail they wrote in the review
Avoid getting into any back and forth – just

one response with an offer to call is sufficient
Here's a sample response to negative Google reviews:
"Hello [name], thank you for writing a review. We are sorry you weren't happy with the treatment you received. We pride ourselves on ensuring every patient has a great experience from start to finish. We would love the opportunity to speak with you further about this. Please call us. We look forward to hearing from you at your earliest convenience."
Check out this Instagram post for some helpful tips on how to reply to a negative clinic review online:
Get More Clinic-Growth Content Like This
Want to get even more new patients and still remain profitable, no matter what search engine, social media platform, or even doctor marketing you might be using?
This is the question and I'm on a journey to get you the answers. I'm Rick Lau and welcome to New Patient Secrets!! Each webinar, I'm going to interview and deconstruct the best marketers and clinic owners across the world to extract the real tactics and tools you can EASILY implement each week to get you even more new patients.
Sign Up for the Next Episode of New Patient Secrets
FAQ
1. How Do I Get More Traffic to My Google Business Page?
Consistent traffic comes from higher rankings, and higher rankings happen when you send consistent signals to your Google page. These can be in the form of posts, reviews, responses to reviews, and other methods. Getting 1-3 Google reviews every week is the single best way to get more traffic.
2. Should My Clinic Respond to Bad Google Reviews?
Yes, you should respond. But keep it short and avoid getting into any back and forth dialogue. Thank them for the review, acknowledge their bad experience, and offer to make it right by inviting them to call your clinic.
3. How Do I Get More Google Reviews for My Clinic?
Ask, and keep on asking. Have your front desk ask. Have your clinicians ask. Have your managers ask. Ask for reviews in person, via print, via email. Ask after the patient gets assessed, when they hit milestones, and after they graduate. And send a link for where to leave the review to every patient who says they'd like to leave one. Make it easy!
Who is Rick Lau and CallHero?

Who is Rick Lau? Rick has built three 10 million dollar healthcare businesses over the past 15 years including a network of 127 clinics with over 1400 employees. He is one of the most sought-after mentors for clinic owners in Canada and USA where he helps owners double, triple, and even quadruple their profits by optimizing their clinic operations using his proven systems and leadership strategies. Plus he has spent millions in Google and Facebook ads during his career.
You can follow him on Instagram