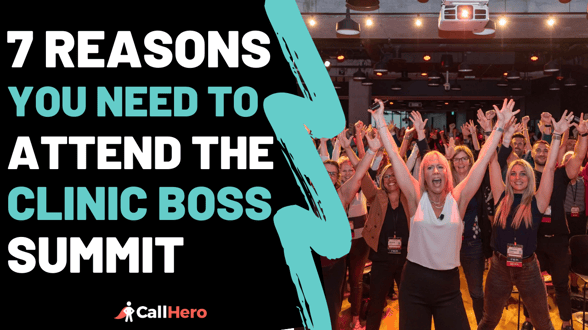 The Clinic Boss Summit is right around the corner, and you might be wondering if it's worth the time and investment. Events can feel like an inconvenience - they require planning, time off, travel, and expenses. In today's fast-paced world, you might consider alternatives like online courses or recorded content.

But here's the key when it comes to events, especially the Clinic Boss Summit: they offer a unique and irreplaceable return on investment. Attending such a summit isn't just about the initial costs; it's a catalyst for exponential growth in your clinic.

Think of it this way – the price of your summit ticket is more than a fee; it's an investment in the future success of your clinic. Each dollar you spend is like planting a seed that has the potential to yield a harvest far beyond your expectations.

Here are seven unique and compelling reasons why you absolutely need to come to Orlando and be a part of the Clinic Boss summit...

1. Experience a Recruitment Breakthrough
Recruitment is a daunting task for clinic owners, especially in today's competitive job market. At the Clinic Boss Summit, you'll learn practical tips and strategies from clinic owners who have successfully built teams ranging from small groups to large staffs of up to 1400 employees.
Discover the secrets to converting job fair opportunities, hiring internationally, and mastering clinician follow-ups. The summit will also shed light on modern approaches, such as leveraging social media, offering intern scholarships, and collaborating with local schools to bolster your clinician pipeline.
2. Learn How to Retain Your A-Players
One of the most critical challenges for clinic owners is staff retention. Learn how to create a high-performing team that loves your clinic's culture and can help your business grow even in your absence.
Discover systematic approaches to keep your employees satisfied and loyal. At the Clinic Boss Summit, you'll gain valuable insights on how to address performance issues and handle raise requests gracefully.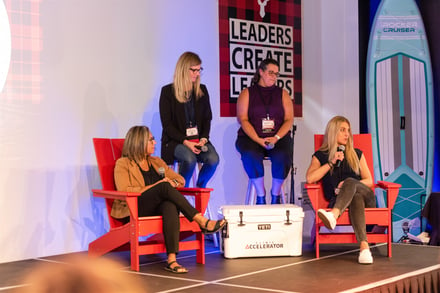 3. Learn How to Build and Implement a Winning Marketing Strategy
In a time of decreasing insurance reimbursements, diversifying your revenue streams is vital. The Clinic Boss Summit equips you with a winning marketing strategy, combining online and offline techniques.
Learn about customer avatars, effective budgets, and attracting new patients through social media, direct mail, and more. Plus explore B2B marketing strategies to secure contracts with local employers.
4. Get a 12-Month Action Plan to Implement After the Summit
Unlike most conferences, where you might leave overwhelmed, the Clinic Boss Summit offers a practical and actionable 12-month action plan. Facilitated by experienced coaches, this workshop will provide you with specific, achievable goals for the year ahead. You'll leave with a roadmap that aligns resources and priorities, ensuring you can achieve your financial goals over the next 12 months.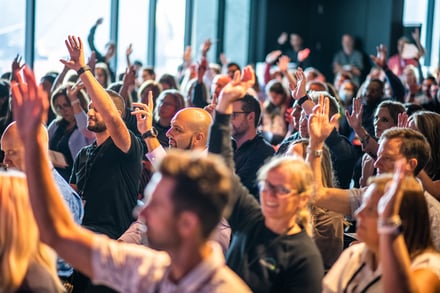 5. Network With Other Clinic Owners Who "Get" You
The Clinic Boss Summit is more than just a conference; it's a community of like-minded clinic owners who understand your challenges and aspirations. You'll have the opportunity to connect with peers who have walked in your shoes and faced similar obstacles. This saves you years of trial and error, providing a valuable support network that can be instrumental in your clinic's success.
6. Celebrate Wins Together
At the Clinic Boss Summit, it's not all work and no play. After a day of learning and growth, you'll have the chance to unwind and celebrate your achievements with fellow clinic owners at the networking party. Delicious drinks, tasty food, and the company of industry peers make for an unforgettable evening of relaxation and fun.
7. Bring Your Spouse or Family For The Ultimate Family Vacation!
Orlando, Florida, the host location of the Clinic Boss Summit 2024, is not only a hub for business but also a fantastic destination for a family vacation. Take this opportunity to combine your professional development with quality time with your loved ones. Enjoy the sunshine, explore theme parks, and create lasting memories that go beyond your clinic.
The Clinic Boss Summit is not just an event; it's a transformative experience that equips you with the tools, strategies, and support needed to thrive in the ever-changing world of healthcare. Hosted by Clinic Accelerator, the #1 clinic owner community with over 1000 members, and Practice Promotions, which was founded and operated by physical therapy practice owners.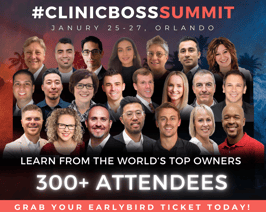 Don't miss this chance to secure your clinic's financial future and connect with a global community of clinic owners. Join Rick Lau and the world's top clinic owners in Orlando, Florida, from January 25-27, and prepare to embark on a journey that could redefine the future of your clinic. Click here to grab your ticket!
FAQ
1. Where Is The Venue For The Event?
The Summit will be at the "Dr. Phillips Center" located at 445 South Magnolia Avenue Orlando, FL 32801
2. I'm Trying To Book My Travel. What Times Do I Need To Know About?
On Thursday (optional pre workshops, 30 spots available): Registration starts at 8:00am. The event starts at 9:00am and concludes at 5:00pm
On Friday: Registration starts at 8:00am. The event starts at 9:00am and concludes at 7:00pm.
On Saturday: Registration starts at 8:00 am. The event starts at 8:00am and concludes at 9:00pm.
3. Can Anyone Attend This Event?
No. You must be a clinic owner, clinic director, managing partner, or a patient experience manager. Or potential clinic owners thinking to start a clinic in the next 12 months. No sales people, business coaches, sponsors or vendors allowed.
Who is Rick Lau and CallHero?

Rick has built three 10 million dollar healthcare businesses over the past 15 years including a network of 127 clinics with over 1400 employees. He is one of the most sought-after mentors for clinic owners in Canada and USA where he helps owners double, triple, and even quadruple their profits by optimizing their clinic operations using his proven systems and leadership strategies. Plus, he has spent over millions in google and facebook ads during his career.
You can follow him on Instagram