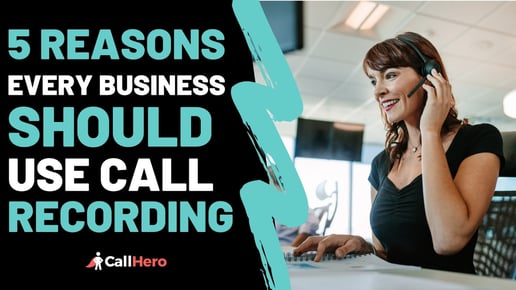 If your business revolves around booking patients over the phones and you haven't started call recording them you're missing out on ways to improve efficiency of your front desk, enhance the patient experience, save lost patients... thereby significantly boosting your revenues.
You've probably called into a business and heard the message:
"This call maybe recorded for training and quality assessment purposes".
There's a reason why these companies do this more than just having a direct result on their revenue.
Here are 5 reasons every business should record calls...
5 Reasons Every Business Should Use Call Recording
1. Train Your New Staff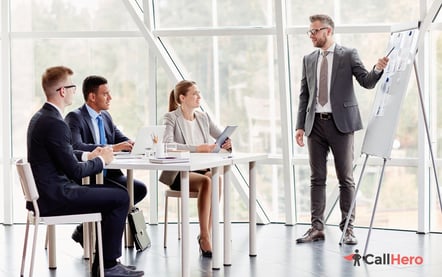 Office phone recording systems can be an indispensable tool for training new staff and measuring how your current staff are performing on the phones.
Plus if you're not recording calls your front desk could be making the same mistakes over and over again without you even knowing. For example, not using the right proven phone scripts to handle specific objections like price, I'll call you back, that could have easily turned that caller into a new patient.
Recording calls can be an effective training tool for training and onboarding new employees. Being able to hear real life conversations in different scenarios and seeing how to handle each scenario correctly. Having a library of recorded calls of the good and bad can be a powerful way to train your front desk to boost their booking rate.
Or help you decide whether this new employee is the right person to do the job.
2. Improve The Patient Experience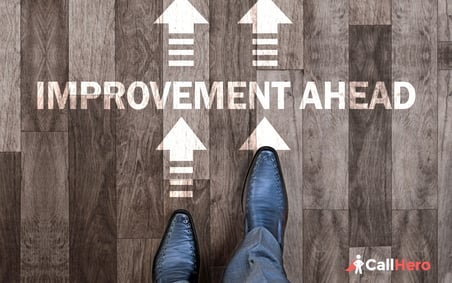 Recording phone calls can be a valuable tool to improve your business, service, and patient experience. It allows you to track things like customer feedback, most common questions or requests and preferences.
In order to get this kind of data marketing companies charge a small fortune to collect from focus groups. But when you record phone calls you have all this valuable data at your fingertips.
Check out this video where Paul Wright shares the simple way to get more physio patients from your phone:
3. Deal With Conflicts
If a conflict ever happens between your staff and a caller, a recorded phone call can be beneficial to identify what exactly happened. Then you can determine if anyone is at fault and come up with a possible solution to save that patient. As well as prevent negative google reviews from unresolved conflicts.
4. Capture missed or forgotten details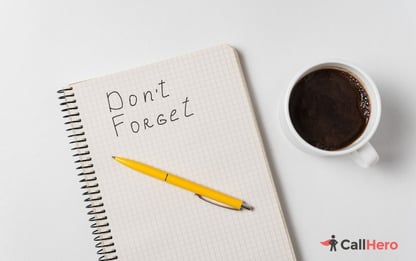 It can be difficult on numerous occasions for your front desk to remember and listen to the entire conversation while pulling up patient data and taking notes. Plus you have to account for noisy a room, bad connections, or accents that are difficult to decipher.
In these situations call recording can be very handy so no important details are missed like appointment time, insurance detail, service, etc. Plus recording your phone calls takes the heat off your front desk so if they ever miss something they can review it right away allowing them to be fully present with patients during calls.
Check out this video to learn How to Get Your Front Desk to Sell WITHOUT Being Salesy:
5. Improve your marketing ROI
Recording phone calls allows you to get a much better return on your investment. Here's why. You see, people don't go to a Chiropractor or Physio just to get out of pain. Their main desire is to go so they can get back to doing what they love again whether that's playing golf, playing with their grandkids, gardening again etc.
Studies have shown time and time again when you put the outcome the patient really wants in the advertisement it will far outperform one that just says call to book an appointment.
Never Miss a Call, Even on Sick Days or Staff Turnover.
CallHero's Virtual Receptionist are fully trained to convert callers directly into your software
Custom Trained For Your Clinic
Extended 14-Hour Phone Coverage
Significant Cost Savings
So when you record phone calls and hear the common pain points and outcomes people really want you can more easily craft advertisements with those outcomes so you get more patients from your marketing.
Now you maybe be thinking this is all great but I don't have time to listen to all the calls.
That's where CallHero can help. It not only records the call but uses the latest technology to extract meaningful data from every call. Such as the specific did not book reason like price, I'll call you back, etc. Which is extremely valuable and saves you time. For example, say Susy only has a booking rate of just 60% (which CallHero tells you) so you can quickly scan through all her calls and see the exact reasons callers are not booking with her instead of listening to every one.
Then you can listen to a few and customize her training based on this data. Like which phone scripts she needs help with etc. So she can get even better at converting callers into patients and prevent patients from slipping through the cracks that could have been saved with the right objection handling phone script.
Plus CallHero does so much more to grow your business.
There you have it: the 5 reasons every business should record phone calls.
PS. Get your hands on the FREE "7 Secrets of a High-Revenue Front Desk" checklist to uncover strategies such as a 3-sentence follow-up script for missed bookings, turning around low-performing receptionists, and a simple motivation trick for boosting revenue and patient count.
Click here to get the checklist
.
1. Is it legal to record conversations?
Each country and state have their own laws. But generally as long as you tell them that this conversation will be recorded it's okay.
2. How do I ask for consent to record a conversation?
Simply use an automated recorded message at the beginning of the call. Most patients are used to hearing this message and won't care. But it's best to consult with an attorney.
3. What if a patient doesn't want to be recorded on the phone?
Most phone recording systems for small businesses like CallHero allow you to just click a button and they won't be recorded.
Who is Rick Lau and CallHero?

Rick has built three 10 million dollar healthcare businesses over the past 15 years including a network of 127 clinics with over 1400 employees. He is one of the most sought-after mentors for clinic owners in Canada and USA where he helps owners double, triple, and even quadruple their profits by optimizing their clinic operations using his proven systems and leadership strategies. Plus, he has spent over millions in google and facebook ads during his career.
You can follow him on Instagram